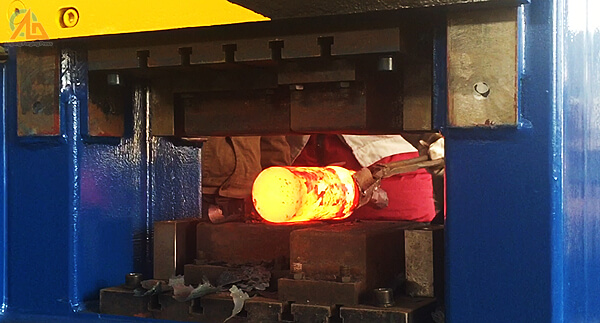 Anyang Forging Hydraulic Press For Blacksmith
This Anyang Hydraulic Forging Press is suitable for all kinds of small free forging, including upsetting, drawing, punching, shearing, bending, torsion, forging, and welding. Our hydraulic press is suitable for blacksmiths, bladesmiths, and metal craftsmen. It greatly enhances the quality of forging and the efficiency of forging.
Content
Advantages of the Anyang hydraulic press are:
​* High Speed.
* Quiet operation.
* Enclosed are hydraulics, steel hydraulic lines, and no rubber hoses to break or catch fire. A safer press.
* Large "T" slotted upper and lower platens. Easier to build specialized tooling.
* Timer to minimize travel time for faster, efficient forging.
* Long 30mm stroke.
* Side access for pressing longer pieces.
* Engineering and machining the guides is important. The Anyang guide system is a scaled-down version of their 1000+ Ton industrial presses. The 25T has 93 sq. inches of guide surface area. The 50T has 143 sq. inches of surface area. The large surface area, shimmable and replaceable wear strips make this press unique to the industry. The guides are precision machined on large milling machines. This high-quality machining is not available on other presses on the market.
* Heavy duty H frame industrial design. No deflection is found in many "C" frame presses. The extra large, filtered oil reservoir for cooler and cleaner (long life) operation.
Anyang Blacksmith Hydraulic Press Specifications
item
Y04-25
Y04-50
Y04-150
Normal force
25 T
50 T
150 T
Working speed
≤20mm/s
≤20mm/s
≤15mm/s
Stroke speed
down
≥40mm/s
≥50mm/s
≥150mm/s
up
≥60mm/s
≥55mm/s
≥100mm/s
Maximum working area:
300mm×400mm
380mm×400mm
600mm×600mm
(L × H)
Dimension of worktable :
300mm×200mm
380mm×300mm
600mm×400mm
(L × W)
worktable height
900±20mm
900±20mm
700±20mm
Hydraulic Oil Volume
240L
450L
450L
(Anti-wear hydraulic oil YB-N46)
Motor Power
4KW
7.5KW
30KW
Outsize
1200mm×
1500mm×
2850mm×
(L×W×H)
765mm×
1110mm×
1600mm×
2080mm
2140mm
4080mm
Weight
860KG
1855KG
9000KG
***************************************************************************************************************************************************
If you are interested in it, please contact me.
Felicia
felicia@anyanghammer.com
WhatsApp/WeChat: +86-16692292870
More Hydraulic Press for Blacksmith of Anyang